Painter, Author & Flower Lover
As a hand-letterer, what do you do when the world feels too heavy and you have no words to express your heart? That is where Valerie McKeehan found herself in the Spring of 2020 as the global pandemic fell upon us all.Beauty emerged from the darkness as this led to her discovering the magic of soft pastel. It was a like a missing piece of her heart suddenly found.
Ever since, she has been crafting her whimsical landscapes- worlds that offer a visual escape and a soft place to land.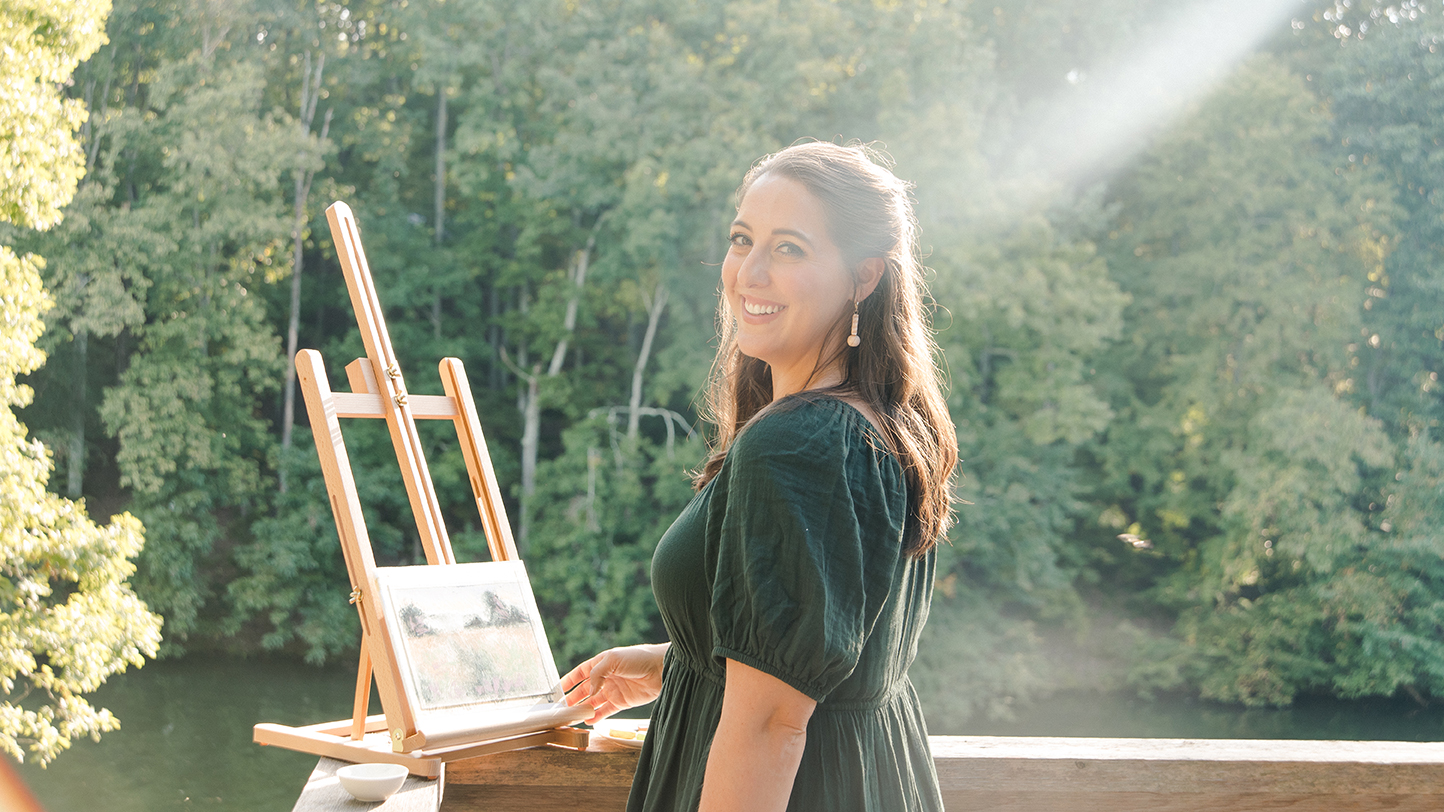 I grew up in rural Pennsylvania and my mother instilled in me a deep-rooted love of flowers and nature, which I am profoundly grateful for. I often look to happy memories of my childhood for inspiration.
Valerie is also the founder and artist behind the international brand, Lily & Val.
Her artwork has been featured throughout the national press including Martha Stewart Living, Good Housekeeping, Food Network, and Good Morning America with corporate clients such as Starbucks, Macy's, Anthropologie, and Flow Magazine.
When she's not painting she is chasing around her toddler daughter and tending to her cut flower garden.
If a vinyl record had an art medium equivalent, it would be a soft pastel…cozy and comforting.
If a vinyl record had an art medium equivalent, it would be a soft pastel…cozy and comforting.
I like to think about my soft pastel landscapes as sidewalk scenes in Mary Poppins, inviting you to just jump right in and get lost for a little while.
A soft pastel stick is made of pure pigment, and as a result of this, the colors are incredibly intense and vibrant. These pure pigments are comprised of tiny crystals that have light-scattering properties, which give original pastel paintings an unmatched luminosity!
Since there's nothing between my hands and these pigments, I can connect with the marks in such a unique way and learn how each stick lays color on the surface a bit differently. It's a dusty, raw, and messy process! 
To see beauty emerge from the dust is like magic. Beauty in the mess. I believe this to be a metaphor for our everyday lives.
The best way to truly experience a soft pastel is in person. I cannot wait to work with you on a commissioned piece or send you an original piece of art to enjoy for years to come.
Please take one minute to subscribe and/or follow me below!